TEMPUR® Original Luxe
The Tempur Original Luxe mattress features deep comfort layers that will generously conform to your body shape, providing you with pressure point relief and total comfort. The Tempur base material within this mattress will help you to easily move around in your sleep whilst giving full body support, helping you to get a better night's sleep.
Mattress Tension – Firm to Medium
Features and Benefits:
5cm Tempur Comfort Material Layer – This layer offers an enhanced feeling of relaxation. Originally made for NASA this reduces pressure points and will absorb your partner's movements making you more comfortable.
9cm 

Tempur

 Support Layer – The support layer offers outstanding comfort and support for your whole body helping you to wake refreshed in the morning.
2 x 8cm DuraBase Technology Base Layer – This double layer of durable base when combined with the other Tempur layers helps to contour the mattress to your body giving you contentment and support in all the right places.

Quickfresh™

 Cover – Designed to keep you cool and fresh throughout the night and upholstered in a soft to the touch jersey fabric to create a luxurious and smooth sleeping surface.
Hypo-Allergenic – Dust mites cannot survive on the Tempur material, allowing a healthy environment and peaceful sleep. The mattress is sterilised and dust free, therefore ideal for allergy sufferers and people with asthma.
Oeko-Tex® 100 Cover – The cover on this mattress meets Oeko-Tex® 100 standard, which means that it has been tested for harmful substances and poses no risk to your health.
Removable Top Cover – The mattress top half of the cover is removable and can be taken off for airing or can be washed at 60°C to ensure a fresh surface and a healthy night's sleep. Other layers of the soft fabric cover, including the grey side panels and white under layer, are also removable for airing or dry cleaning.
Easy Care – No need to turn, but regular rotation from head to toe will extend the mattresses life span.
Tempur mattress weight capacity is approx 23 stone (150kg) per side.
Measurements:
Tempur Guarantee
Tempur are so confident they will provide you with the ultimate sleeping experience they will give you a 10 year guarantee. The Quickfresh cover has a 2 year guarantee.
LAYERS:



UNCOMPROMISING SUPPORT
Experience where it all started with NASA developing a material to relieve the pressure endured by astronauts during lift off. This is why the TEMPUR® Original Collection delivers the core benefits of outstanding comfort and support for those who prefer a mattress with a medium feel. Every TEMPUR® Original mattress contains the space technology that is TEMPUR® Material, engineered to respond to your body's temperature, shape and weight, even as you move throughout the night, perfectly moulding to you however you sleep.
To make sleep even sweeter TEMPUR® Original mattresses have the added benefits of removable covers, washable at 60 °C, and are low maintenance because there is no need to flip or turn them over! Available in 3 ranges: Supreme (21cm deep), Elite (25cm deep) and Luxe (30cm deep)
TEMPUR® Material – where it all began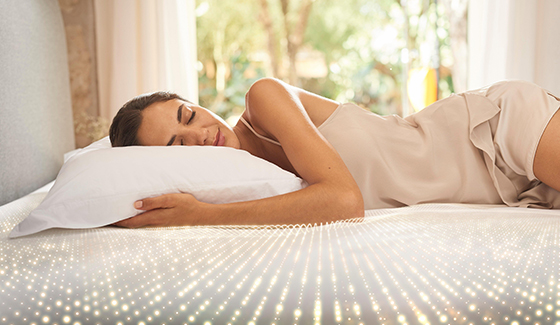 TEMPUR® Material, composed of a secret formula and first developed by NASA to support astronauts during lift-off, provides support where you need it all night long.
Visco-elastic cells that actively mould and adapt to your body
Ultimate comfort and support
A great night's sleep, night after night
Easy to remove – easy to wash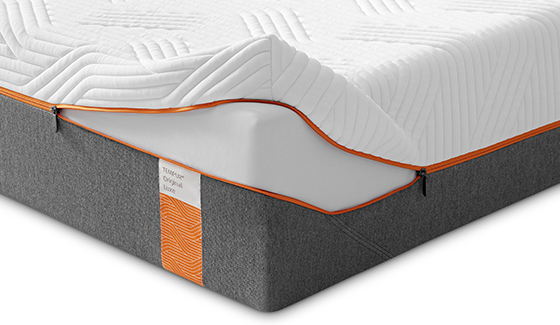 All of our mattresses are made with removable covers washable at temperatures of up to 60 °C. Our Luxe and Elite mattresses even come with QuickRefresh™ covers that feature an easy zip-off top, so you can keep your mattress clean and fresh with minimal effort.
Caring for TEMPUR® Original Supreme Mattresses – Find out more>
Caring for TEMPUR® Original Elite and Luxe Mattresses – Find out more>